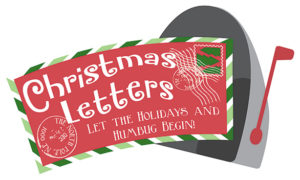 CHRISTMAS LETTERS
Let the Holidays and Humbug Begin!

Book, Lyrics and Additional Music by Paul Cozby
Music and Arrangements by Laura Bergquist

Run Time: 90 min (1 act)
Cast: 2F, 2M (flexible)
Orchestration: Piano, Optional bass and percussion
Set Requirements: Unit Set; Projections available
---
Synopsis
CHRISTMAS LETTERS is an original musical comedy unfolding in a series of comic and poignant vignettes with four actors bringing 46 characters to life celebrating everything that drives us crazy about Christmas . . . and why we love it anyway. Think of I Love You, You're Perfect, Now Change . . . for the holidays. From receiving that first obnoxious Christmas letter to taking the family picture, from dealing with in-laws, to facing unassembled gifts on Christmas Eve, CHRISTMAS LETTERS shows why sometimes we want to sing "Wreck the halls!" and then why we're wistful when Christmas is over.
---
Cast Breakdown
MEN: Each male plays a different role in each vignette. From harried husband frantically shopping for his wife, to harried dad assembling gifts on Christmas Eve. From grown brother facing the first Christmas without the parents, to a child who won't go to sleep.
WOMEN: Each woman plays a different role in each vignette. Mom-on-the-edge as she organizes the family picture. Bratty teen who's too cool for the picture. A grownup single girl facing Christmas at the kids table . . . again. And many more.
---
Time and Action
The present at the holidays. The action flows from the day after Thanksgiving through the early shopping days to the relatives coming over to desperately trying to get the kids down on Christmas Eve to Christmas Day
---
"It is absolutely true that CHRISTMAS LETTERS took our new theatre company to a new level. With its highly witty, engaging script and score, the show is a non-stop journey full of laughter and touching moments — the best of both worlds! We heard from several members of our sold-out house who said they couldn't wait to see it again. It's clear that audiences crave new classics to add to their favorite holiday shows and CHRISTMAS LETTERS is just the ticket!"

– Angela Shultz & Melissa Harlow
Stomping Ground Theatre Co
New York