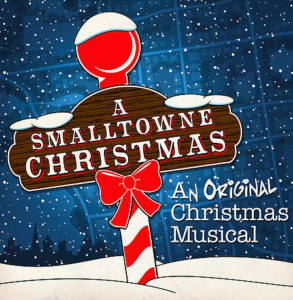 A SMALLTOWNE CHRISTMAS

Book by Stacia Fernandez & Jacob Pinion
Music by Danny Rooney
Lyrics by Danny Rooney & Stacia Fernandez

Run Time:
Cast: 3F, 2M, 1 young boy or girl
Orchestration: A piano, OR piano, bass, drums
Set Requirements: Unit set with a few moving wagons or walls (directors choice)
---
A town on the brink! Sibling rivalry, loads of laughs and a Miracle or 2… Now That's Christmas!
It's Christmas in Smalltowne, and our new Mayor Angela Small is using her one Christmas Wish to keep the Christmas Musical forever as it was on one very fateful night. That is, until her sister Evelyn comes swirling back into town with a new hairdo and a vengeful Christmas Wish of her own: A brand-new totally ORIGINAL CHRISTMAS MUSICAL!
With the help of a stoic farmer, a Church accompanist lady, a flashy hairdresser and an intelligent young student, Angela must save Smalltowne and remind Evelyn of the true meaning of Christmas.
But look out! Evelyn's Christmas Wish might not be as snowy as they think!
The songs in A SMALLTOWNE CHRISTMAS are completely original, with dashes of well known carols thrown in. A fun sing-a-long finale of Christmas favorites makes A SMALLTOWNE CHRISTMAS the perfect choice for your theater. It is A NEW, FUN CHRISTMAS SHOW and will be a new AUDIENCE FAVORITE for years to come!