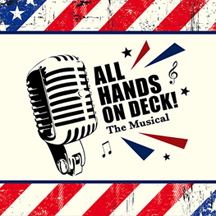 ALL HANDS ON DECK!
A New 1940's Musical Show

Written by Jody Madaras
Musical Arrangements, Additional Music & Lyrics by Jody Madaras
Conceived by Jody Madaras & Quincy Marr
Run Time: 2 hr 15 min
Cast: 2F, 2M (+ 2 optional characters, could be cameos or local personalities)
Orchestration: 9 pieces (piano, bass, drums, trumpets 1 & 2, trombone, reeds 1, 2 & 3)
Orchestra Tracks Available: more information below
Set Requirements: Unit Set

---
ALL SINGING! ALL DANCING! ALL BIG BAND! Based on Bob Hope's 1942 USO tour to the troops in the field, ALL HANDS ON DECK! is a new, two-act revue performed by four charismatic singer/dancer/comics and a 9-piece orchestra featuring the songs, dances and laughs that America has loved since the '40s.
Songs include: "Chattanooga Choo-Choo," "Atchison Topeka And The Santa Fe," "I'm In The Mood For Love," "Pennsylvania Polka," "I'll Never Smile Again," "Any Bonds Today?," "Don't Fence Me In," "America The Beautiful," "Deep In The Heart Of Texas," Thanks For The Memory" and a powerful Military Medley. ALL HANDS ON DECK! boasts over 40 classic Big Band hits in original arrangements all packaged in a fun-filled, true-to-life reproduction of the kind of USO show Bob Hope and Jack Benny would have taken to the troops: classic humor and great music from those special days of road shows, war-bond drives, and radio broadcasts.
Step back into 1942 with ALL HANDS ON DECK!
---
---
Special Features – Tracks
Full Orchestral Tracks are now available for those who license ALL HANDS ON DECK! These top-quality, digital tracks are made of acoustic instruments and are laid out with careful attention paid to song and underscoring tempos for easy use and a perfect live, authentic Big Band sound.
ALL HANDS ON DECK! Orchestra track rental package includes:
Rehearsal CD: (2 copies) which arrives just before your opening rehearsal date. These tracks can be made-to-order if necessary, but are usually requested at a performance speed or 10% slower speed for easier learning of the material.
Performance Tracks: You will receive a small briefcase-sized machine two weeks before your opening night. This small digital machine houses the performance tracks – and is simply plugged into your sound board. The machine has the ability of slightly slowing or speeding up the tempos.
Cue sheets: Cue sheets for both rehearsal and the performance tracks are included.
---
Past Productions
National Tour
2013
Artisan Center Theater
Hurst, Texas
The Barn Dinner Theatre
Greensboro, North Carolina
Chaska Valley Family Theatre
Chaska, Minnesota
Impromptu Players
DeRidder, Louisiana
Perrysburg Musical Theatre
Perrysburg, Ohio
Surflight Theatre
Beach Haven, New Jersey
Clyde Performing Arts Center
Clyde, Ohio
Presentation High School
San Jose, California

---
broke a single day sales record after our opening weekend!

– Artisan Center Theater

In over 30 years of producing and performing in musical theater, ALL HANDS ON DECK! has to be the most rewarding. This tribute to our WWII veterans, the music, the patriotism and the audience response was overwhelming.

– Presentation High School
---
---
click the logos below for more
Press & Reviews or visit the show's
Official Website


Q&A: Jody Madaras