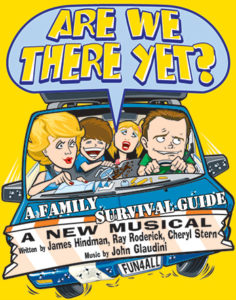 ARE WE THERE YET?

Written by James Hindman, Ray Roderick, & Cheryl Stern
Music by John Glaudini
Originally Directed & Choreographed by Ray Roderick
Cast: 2W, 2M
Run Time: 2hr, 10 min
Set Requirements: Unit Set
---
ARE WE THERE YET? is a roller coaster ride through the lives of modern American families. This merry musical romp includes everything from hysterical family car trips and mothers praying for hits at their sons' baseball games, to fathers sitting through balley lessons and the joy of sex after 60. This lively musical portrays the love and challenges of the old adage, "You can pick your friends but you can't pick your family." One thing is for sure, you will definitely relate to this family musical and "enjoy the ride!"
---
Rehearsal Tracks
Do you have trouble getting a rehearsal accompanist? When you order ARE WE THERE YET? materials, you can optionally purchase a set of REHEARSAL CDs. Every track of music in the show is performed on the piano by Composer John Glaudini. One CD contains piano tracks of accompaniment and vocal lines. The other is only the accompaniment.
Think how much easier and quicker your rehearsal process will be if you have a piano player "at your beck and call," who knows the show and plays in the correct tempo every time!
---
---
Productions
Past Productions
Oregon Community Theatre
Oregon, Ohio
Lexington High School
Lexington, Missouri
Bell Tower Theater
Dubuque, Iowa
Black Sheep Productions
Fargo, North Dakota
ART Station
Stone Mountain, Georgia
Broadway Palm Dinner Theatre
Ft Myers, Florida
Emporia State University Theatre
Emporia, Kansas
Gaslight Theatre
Enid, Oklahoma
Tulsa Repertory Musicals 3 times!
Tulsa, Oklahoma
Singing Oaks Church of Christ
Denton, Texas
Theatre Arlington
Arlington, Texas
Circa '21 Dinner Playhouse
Rock Island, Illinois
Tulsa Repertory Musicals
Tulsa, Oklahoma
Broward Stage Door Theatre
Fort Lauderdale, Florida
7th Stage Productions
Hastings, Nebraska
Blue Valley West High School
Overland Park, Kansas
Actors' Playhouse at the Miracle Theatre
Coral Gables, Florida
Midi Change of Pace Dinner Theatre
Duluth, Minnesota
Blue Valley North High School
Overland Park, Kansas
Actors' Summit
Hudson, Ohio
American Heartland Theatre
Kansas City, Missouri
Great Plains Theatre
Abilene, Kansas
SFCC Theatre Arts
Sedalia, Missouri
Crosswalk Community Theatre
Little Rock, Arkansas
The Aural Stage
Toledo, Ohio
The Winter Park Playhouse
Winter Park, Florida
Wayside Theatre
Middletown, Virginia
Queens Theatre in the Park
Flushing, New York
April 2006
CityStage Theatre
Springfield, Massachusetts
Prairie Fire Theatre
Normal, Illinois
The Understudy Dinner Theater
Dothan, Alabama
East Bank Theatre
Bossier City, Louisiana
Charles W. Eisemann Center
Richardson, Texas
Westchester Broadway Theatre
Elmsford, New York
Stepping Out Productions
Milwaukee, Wisconsin
Showstoppers Inc.
Scituate, Massachusetts
Stage One Theatre
Wichita, Kansas

---
You could call it the parents' edition of I Love You, You're Perfect, Now Change!

You'll leave the theatre humming and feeling better about being human.

– Wichita Eagle
---
click the logos below for more
Press & Reviews



Demo Track Cast: Susan Haefner, Duke Lafoon,
Kevin Pariseau, Beverly Ward
Song List
ACT I
Opening Number
Inutero Interview
No Turning Back
Baby Rap
Waiting for Jennie
Batting Zero
Coach Bob
'Cause I'm a Mommy
Dad's First Prom
Cha-Ching
ACT II
Your Parents Push Your Buttons
'Cause They Put 'Em There
Whiplash…Divorce Date (Music by Tom Kochan)
Bailey's College Fund
Giving Her Away
What Happened To The Good Old Days
I Deserve It
Audrey, Jr.
Bernie's Buffet
I Know She's Out There (music by Tom Kochan, additional lyrics by Yvonne Adrian)
Inheriting Laura
Movers and Shakers
Enjoy the Ride