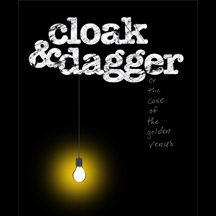 CLOAK AND DAGGER

A new musical by Ed Dixon
Run Time: 85 min
Cast Size: 1F, 3M
Set Requirements: Unit Set
---
CLOAK AND DAGGER has just concluded its WORLD PREMIERE at Signature Theatre. Licensing rights ARE NOW AVAILABLE.
From Helen Hayes Award Winner and Drama Desk Nominee Ed Dixon comes a delightfully screwball musical comedy send-up on the 1950s film noir.
Third-rate detective Nick Cutter is down on his luck when a beautiful blonde bombshell tosses a very intriguing case (and herself) into his lap. For the next 90 minutes, Nick races through every New York neighborhood in this zany, mile-a-minute whodunit. With four actors playing nearly 20 roles, CLOAK AND DAGGER uproariously spoofs erswhile mysteries with lightning speed and rapier wit.
---
---
Productions
Past Productions
Lake Dillon Theatre Company
Lake Dillon, Colorado
August – September, 2015
Dakota Prairie Regional Center for the Arts
New Rockford, North Dakota
March – April, 2015
Signature Theatre
World Premiere!
Arlington, Virginia
June – July, 2014

---
Cloak and Dagger is the funniest show I've seen in years!

– Arlington Weekly News

Cloak and Dagger is the perfect way to spend a summer's evening in the theatre… highly recommended.
---
---