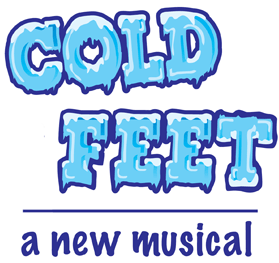 COLD FEET
Four guys with a bar, a band and one unspeakable secret…

Music and Lyrics by James Price
Book by James Hindman
Run Time: 90 min
Cast: 4 Men
Orchestration: Piano, bass (stand-up or electric), electric and acoustic guitar, banjo, kazoo lead sheets
Set Requirements: Unit Set

---
Synopsis
COLD FEET is a raucous musical romp through the lives of four committed bachelors on the most important night of their lives at Leonard's Bar in the Upper Peninsula of Michigan. Think snow. Cold. Four guys with a bar and a band and one unspeakable secret. Now you're getting warm. This musical is one part PUMP BOYS, one part FOREVER PLAID, with a dash of Neil Simon thrown in for good measure.
A multi-talented cast of four actor/musicians takes us on an hilarious journey through the landscape of their failed lives and upside-down relationships with one very unexpected result. Along the way, they discover each others secrets, heal old wounds, and ultimately help each other deal with their biggest fear: women.
The score has a James Taylor flavor with elements of do-wop, country, bluegrass and pop throughout.
---
---
Past Productions

Midi Change of Pace Dinner Theatre
Duluth, Minnesota
Dakota Prairie Regional Center for the Arts
New Rockford, North Dakota
Extended Run!

---
COLD FEET Held Over!!!

People came out of the theatre with tears in their eyes from laughing. One person said, 'My ribs hurt… I've never laughed so hard!'

'The laughs start at the beginning and don't stop the entire show,' another theatre goer added.

– Dakota Prairie Regional Center for the Arts
New Rockford, ND

The audience absolutely loved it! They laughed till they had tears in their eyes…

It's so much fun to sit in the back and watch people laugh! There were four women in the front row who planned to nab one of the bachelors each, which made it extra-interesting!

…yesterday we sold out the performance… and they loved it. And, wow, with a full house the laughter is pretty much nonstop.

– Change of Pace Productions
Duluth, MN