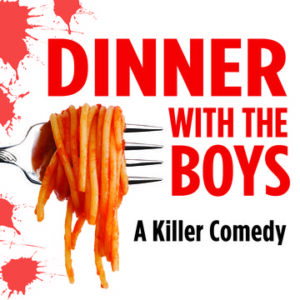 DINNER WITH THE BOYS
A Killer Comedy

by Dan Lauria
Cast: 3M
Run Time: 2hr
Set Requirements: Unit Set – a modest kitchen in the wilds of New Jersey about a two hour drive from the heart of Brooklyn.
---
When Charlie and Dom, two wise guys from the old neighborhood, find themselves at odds with the Family, they must serve up perfectly seasoned performances with their spicy puttanesca to escape danger. This odd couple await their fate as they prepare dinner for their special guests. Written by Dan Lauria (The Wonder Years), Dinner with the Boys is an evening filled with belly-laughs, killer plot twists and plenty of garlic. The only question remaining- will this dinner be their last meal?
---
Materials: your materials will be sent to you two months prior to your opening date and will include everything necessary for your production and can be ordered in Printed or Digital format. Printed Materials are provided on unbound three-hole punched loose-leaf paper while Digital Materials are provided via email as downloadable PDF files for you to print in-house. All materials are yours to keep! No deposits, no returns.
The required materials for DINNER WITH THE BOYS include:
Production Scripts
Available Products:
Acting Edition – Beautifully bound scripts available at wholesale costs to sell in your lobby!
Director's Script – Single-sided script with space for director's notes.
Logo/PR Pack – Includes high-resolution logo artwork, a ready-made show poster and reference photos.
---
New Jersey Repertory Production
Photos by Joan Marcus

---
A funny, friendly, big lug of a play.

– The New York Times

Funny from the first dish to the last.

A rare comedy. Gets as much laughter as immediate appreciative applause.

– Broadway Select
---
Characters
Dom: the jovial cook for over 30 years of the mob family of Big Anthony Sr.
Charlie:  the back up to Leo the renowned & infamous hit man of Big Anthony Senior's crime family.
Big Anthony Jr:  now head of the crime family started by his father.  Anthony is a screaming maniac in his mid 40's
The Uncle Sid: the book keeper of the mob family .  Slight of build in his late 70's but at heart a kindly killer.
Casting Note: Sid & Big Anthony Jr. can and should be played by the same actor.