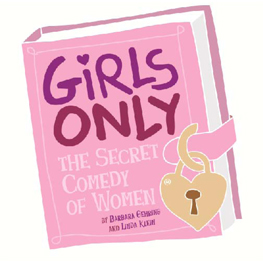 GIRLS ONLY
The Secret Comedy of Women®

By Barbara Gehring and Linda Klein
Run Time: 90 min
Cast Size: 2 Women
Orchestration: Keyboard, Tracks available. This is a play with music, not a musical.
Set Requirements: Unit Set, Set Rental available
---
Synopsis
GIRLS ONLY is an original comedy that celebrates the honor, truth, humor and silliness of being female. With a two-woman cast and audiences full of raucous, laughing ladies, the show is a unique examination of all things girly.
Born out of the earnest and sweetly ridiculous writings the two authors discovered in their girlhood diaries, the GIRLS ONLY mix of sketch comedy, improvisation, audience participation, and hilarious songs and videos will remind you that underneath, women all have very funny and very charming feminine similarities.
Warning: This show contains feminine subject matter including teenage diaries, breast feeding, tampons, shadow puppets, pantyhose, menstrual cycles, slumber parties, menopause and maxi pads.
---
---
Productions
Past Productions
CLO Cabaret encore performance!
Pittsburgh, Pennsylvania
May – August, 2015
Downstairs Cabaret Theatre twice!
Rochester, New York
Tom Hendry Theatre at MTC Warehouse
Winnipeg, Canada
The Footlights
Falmouth, Maine
May – August, 2015 extended run!
Main Street Theater – Chelsea Market
Houston, Texas
Hennepin Stages & New Century Theatre
Minneapolis, Minnesota
Denver Center for the Performing Arts
Denver, Colorado
Blumenthal Performing Arts Center
Charlotte, North Carolina
Civic Center of Greater Des Moines
Des Moines, Iowa

---
Two gifted actresses capture the joys and travails of growing up female, in a series of amusing vignettes that will warm your heart while convulsing you with laughter. See it, you'll like it.

a fast-paced, laugh-out-loud, physical SNL-style production. In one moment, they're paranoid sex-ed teachers scaring (and scarring) you with stories about the terrifying world of boys, and the next they're rereading sections of their diaries, laughing at what made the cut. Audience participation is part of the shtick, so be prepared to play along.
---
---
click the logos below for more
Press & Reviews



for more Press & Reviews visit the
Girls Only Official Website