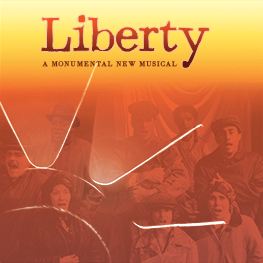 LIBERTY
A Monumental New Musical

Book & Lyrics by Dana Leslie Goldstein
Music by Jon Goldstein

Run Time: 90 min
Cast: 8 minimum (2 Women, 4 Men, 1 Girl/Young Woman, 1 Boy), can be expanded to any size.
Orchestration: Keyboard
Set Requirements: Unit Set
Study Guide Available
---
Synopsis
Her Story is Our Story
Our play begins as Frederic Bartholdi puts the finishing touches on his magnificent "Liberty Enlightening the World". But before he sends her off to become the embodiment of the American dream, Liberty is transformed. She embarks on her journey as an innocent young girl, carrying with her only the hope that she'll become the iconic symbol that we know today. No torch, no shackles, no crown.
We watch as Liberty inspires Emma Lazarus to write The New Colossus, and Joseph Pulitzer to create The Pedestal Fund. Her understanding of the American people grows as she encounters individuals from all walks of society – politicians, dockworkers, street urchins, fellow immigrants, freed slaves, and Native Americans. Only then is she ready to embody their hopes and aspirations and finally ascend to her place atop the pedestal. She has fulfilled Bartholdi's vision for her, and much more.
In a poignant, but always entertaining 90 minutes, Liberty learns of our complicated history, and we are reminded of the unique and vibrant country that America is and always will be.
LIBERTY is a 90-minute contemporary musical based on historical content.
---
---
Productions
Current/Upcoming Productions
Off-Broadway
42West Theatre
New York, New York
July 4 – 24, 2016
Past Productions
Theatre 80
New York, New York
October 14 – November 25, 2014
Brooklyn Children's Theatre
Brooklyn, New York
Spring 2016
Warner Theatre
World Premiere!
Torrington, Connecticut

---
"Earnest, sentimental…charming!"

"The strengths of LIBERTY include its songs which range from propulsive pop to an acerbic tango to a humorous duet."

Extremely moving…a breathe of fresh air!
---