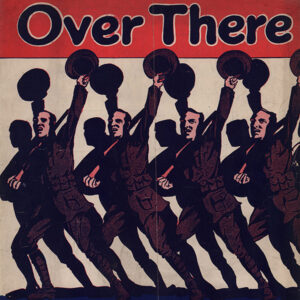 OVER THERE
A Cavalcade of Songs and Remembrance Commemorating WW1

Created by Karin Baker
Musical Arrangements & Additional Music by David H. Turner

A WWI Centennial retrospective told through Authentic
stories, letters and songs honoring the brave that fought for
freedom "Over There" in the War to End All Wars!
Cast size 4 men, 3 women; Cast size can be expanded
Visual outtakes available with licensing.
---
Synopsis
This historic revue is for both young and old, showing the tragic events of "The War to end all Wars," WW1. To help create the history, I've woven a tapestry of songs from the era, letters written from the front lines, poetry and visuals; newspaper clippings, posters, sheet music and sound effects.
OVER THERE shows the reluctance of America to become involved through dialogue with three iconic Broadway composers; Jerome Kern, Irving Berlin and George M. Cohan, and two star performers, Sophie Tucker and Ma Rainey from the years 1914- 1919. On the other side of the ocean we meet a loving English couple; Jack a soldier who writes letters home from the front lines, and letters from his sweetheart Bess, as she awaits his return.
---

---
---
Song List

1. When You Wore a Tulip
2. It's A Long Way To Tipperary
3. America I Love You
4. The Voice of Belgium
5. Christmas Carols
6. Keep the Home Fries Burning
7. They Didn't Believe Me
8. St. Louis Blues
9. Pack Up Your Troubles In Your Old Kit Bag
10. I'm Always Chasing Rainbows
11. Over There, Yankee Doodle Dandy, You're A Grand Old Flag
12. Goodbye Broadway, Hello France
13. When Johnny Comes Marching Home
14. Swing Low, Sweet Chariot
15. Roses of Picardy
16. Till The Clouds Roll By
17. After You've Gone
18. Oh How I Hate To Get Up In The Morning
19. Hinky Dinky Parlez Vous
20. Would You Rather Be A Colonel With An Eagle On Your Shoulder, Or A Private With A Chicken On Your Knee
21. I'm Gonna Pin My Medal On The Girl I Left Behind
22. Till We Meet Again
23. Look For The Silver Lining
24. How Ya Gonna Keep 'em Down On The Farm