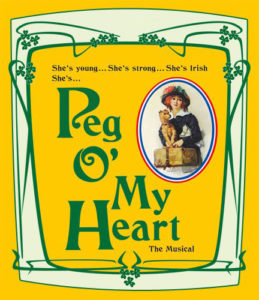 PEG O' MY HEART
A new musical based on the 1912 hit play by J. Hartley Manners.

Book by Karin Baker
Music by Fred Fisher

Won best musical for 2011 Midtown International Theatre Festival
Synopsis
PEG O' MY HEART is set in 1920 and tells the story of Peg O'Connell, an uneducated but fiery young Irish girl is living with her father in New York City. Due to a series of strange circumstances, she is forced to travel to England and live with her dead mother's family. This wealthy, yet highly dysfunctional family, must tutor Peg in the ways of society and make her a lady or she will be cut off from her dead uncle's estate. The unsuspecting Peg dispenses large doses of common sense and joy to her English kin and the wealthy society they belong to. This heart-warming comedy has been proven a timeless classic, and in this new updated musical format, retains the power and charm to draw audiences for a new millennium.
---
Cast size 3F, 5M

---
My review cold be summed up with the first line of the title song's chorus: "Peg o' my heart. I love you." … This valentine-with-vinegar embraces musical comedy traditions and sentiment without getting too sappy.

A fun and entertaining evening of song and dance

– Talk Entertainment
---
Song List
1. Ireland Must Be Heaven, For My Mother Came From There
2. Peg O' My Heart
3. Every Little Bit Helps
4. Daddy You've Been A Mother To Me
5. When I Get You Alone Tonight
6. There's A Broken Heart For Every Light On Broadway
7. They Go Wild Simply Wild Over Me
8. There's A Little Bit Of Bad In Every Good Little Girl
9. I Want You To Want Me (I Want Love To Find Me)
10. Who paid The Rent For Mrs. Rip Van Winkle
11. Mary Went Round And Around And Arond
12. There's A Little Spark Of Love Still Burning
13. I'd Rather Be Blue Over You
14. And A Little Bit More – (And Perhaps A Bit More)
15. Any Little Girl That's A Nice Little Girl Is The Right Little Girl For Me
16. Call It Anything It Wasn't Love
17. I Found A Rose In The Devil's Garden