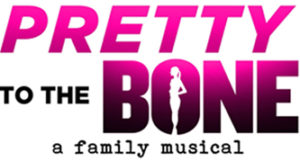 PRETTY TO THE BONE

Book by Yvonne Adrian
Lyrics by Cheryl Stern
Music by Tom Kochan
Developed by Jack Cummings III
Co-Adapted by Robyn Hussa and Eric R. Christiansen
Run Time: 30 min or 75 min
Cast: 5F, 2M, (expandable to 13)
Orchestration: Piano; optionally expandable to 6 players (Piano, Bass, Guitar, Drums, Cello, Woodwinds)
Set Requirements: Unit Set

---
Synopsis
PRETTY TO THE BONE is a dynamic, provocative and contemporary musical, based on a true story. When fifteen year old Polly develops an eating disorder, a "Perfect and Happy" American family is shaken to the core and embarks on an emotional roller coaster ride of a lifetime. Humorous, heartbreaking and ultimately uplifting, PRETTY TO THE BONE is about family, survival and love.
WINNER 2002 Jonathan Larson Award
(PRETTY TO THE BONE was previously titled nor'mal:. It was originally produced Off-Broadway at Transport Group Theatre Company with direction by Jack Cummings III.)
Four versions of the script are available for perusal:
30 minute length with 7 actors or with 13 actors
75 minute length with 7 actors or with 13 actors
---
---
Testimonials
I experienced the most powerful 75 minutes of my life. My eyes were wet, my heart was racing and I had been touched in so many ways by this performance. I enjoyed the music; I laughed at the humorous moments, but was totally amazed at both the message and the delivery.

– Parent of a Greendale High School student

There is no better feeling in the entire world than knowing you have changed someone's life, and nor•mal: gave all of us this experience. Words don't describe being a part of it. It was simply amazing.

– Jessica Ryan, "Polly" in the first high school cast of nor•mal:
---
Past Productions

Off Broadway
Transport Group Theatre Company
Greendale High School
Milwaukee, Wisconsin
Oregon Conservatory of Performing Arts
Eagle Point, Oregon
University of Wisconsin-Whitewater
Whitewater, Wisconsin
Seminar at NYU/Silver School of Social Work
New York, New York
Stage 1 Theatre Company
Mechanicsville, Virginia
Converse College
Spartanburg, South Carolina
Kearney High School
Kearney, Nebraska
Freedom Schools
Freedom, Wisconsin
EDTA International Thespians Festival
Lincoln, Nebraska
Edinburgh International Festival
Edinburgh, Scotland
Wisconsin State Theatre Festival
Winner 2006 Outstanding Musical!
Nebraska International Thespian Festival
Invited Presenter
Wofford College
Spartanburg, South Carolina
Marquette University
Milwaukee, Wisconsin
OCU Stripped – New Musicals Project
Oklahoma City University, Oklahoma
St. Norbert College
De Pere, Wisconsin
Freedom Schools
Freedom, Wisconsin
Nicolet High School
Milwaukee, Wisconsin
Wauwatosa East High School
Wauwatosa, Wisconsin
Divine Savior Holy Angels High School
Milwaukee, Wisconsin
Janesville Parker High School
Janesville, Wisconsin
Colony High School
Ontario, Canada
Milton High School
Milton, Georgia
Carmen High School of Science and Technology
Milwaukee, Wisconsin

---
Let's wrap this one up and send it out to where it can do the most good. The collective impact is devastating.

– Variety

…impressively handles the difficult topic with sensitivity and humor. Pretty to the Bone shows that any subject, if handled right, is grist for the musical mill…

– New York Post