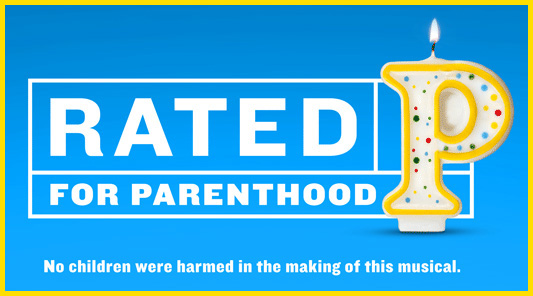 RATED P … FOR PARENTHOOD
Book and Lyrics by Sandy Rustin
Music and Lyrics by Dan Lipton & David Rossmer
Run Time: 80 min
Cast: 2F, 2M (flexible) can be expanded depending on creative team requirements
Set Requirements: Unit Set
---
Synopsis
RATED P … FOR PARENTHOOD chronicles every stage of modern-day parenting, from conception to college, with giant doses of heart and humor.
A versatile cast takes the audience through the ups and downs of childrearing – from the sublime to the ridiculous – in a series of comic and musical vignettes.
Hilarious, fresh, and decidedly irreverent, RATED P provides all the wistful joy of childrearing … at a fraction of the cost of braces!
---
Cast size can be expanded depending on creative team requirements.
Rehearsal tracks for all of RATED P's musical numbers are available for licensing.
Rated G alternatives to RATED P's Rated R moments are available.
Opportunities to insert local flair and flavor into the RATED P script are available.
---

---
The show is sweet and wistfully funny, even for audience members who have never known the challenges of 3 a.m. feedings

– The New York Times

An audience-friendly, ninety-minute Off Broadway revue with an eye to sitdown engagements across the land. One can imagine regional theaters full of audiences screaming with laughter.

– Variety