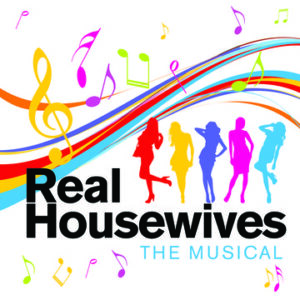 REAL HOUSEWIVES: THE MUSICAL

Book, Music & Lyrics by Molly Bell
Cast: 5F, 1M
Run Time: 1 hr, 45 min
Orchestrations: Piano, Keyboard, Bass, Drums
Set Requirements: Multiple locales in the present
---
They shop, brunch, drink white wine with lunch, and now THE REAL HOUSEWIVES are ready to make their debut on your stage. Grab a glass of pinot and watch the girls lie, cheat, and sing their way to the top of the social ladder! Based on the infamous TV franchise "The Real Housewives of [fill in the blank]," these ladies who lunch are ready to dine right in your own backyard. Imagine The Real Housewives of El Paso, The Real Housewives of Tallahassee, or The Real Housewives of Sacramento! Tailor the name of the show to fit your city and watch everyone's favorite guilty pleasure come to life in song and dance. Your audience will laugh in recognition of local restaurants, street names, and other insider gossip from around your own town in this delicious musical parody of America's secret guilty pleasure!
---
Materials: your materials will be sent to you two months prior to your opening date and will include everything necessary for your production and can be ordered in Printed or Digital format. Printed Materials are provided on unbound three-hole punched loose-leaf paper while Digital Materials are provided via email as downloadable PDF files for you to print in-house. All materials are yours to keep! No deposits, no returns.
The required materials for REAL HOUSEWIVES: THE MUSICAL include:
Production Scripts, Piano/Vocal Scores
Orchestrations: Piano, Keyboard, Bass, Drums
Available Products:
Acting Edition – Beautifully bound scripts available at wholesale costs to sell in your lobby!
Director's Script – Single-sided script with space for director's notes.
Performance Tracks
Reference Recording – Audio recording for reference purposes only
---

---
Uproarious — a smash hit!

– The Examiner/AXS Entertainment

Delicious parody- Saucy!

– Mercury News

REAL HOUSEWIVES Promo Video
---
Characters
Joanne Johnson: Female, 30s, the perfect wife who seemingly has it all, a put-together, type-A personality — nothing in her purse is out of place. Joanne is named "Head Housewife" under unusual circumstances and is thrown to the wolves by the other wives when her husband Anderson is indicted for fraud. She crawls her way back to the top as she learns how to change her life and become more like a "real" Real Housewife.
Babette Bellini: Female, 30s, Joanne's best friend/frenemy, is desperately trying to hold onto her marriage to real estate mogul Royce Bellini, who is cheating on her with an "unspecified party" (who we learn is another of our wives). Her friendship with Joanne is almost destroyed by jealousy and rivalry, and their journey toward their patch-up is the heart of the show.
Beezus Horowitz: Female, 49-55, the oldest of the wives, trying to hold onto her youth, elegance, and wealth. Even though she doesn't like it, she acts as the matriarch of the group. When Joanne has troubles, Beezus stirs the water as only she can to create mayhem and chaos.
Lulu Delecante: Female, mid-40s, the mysterious wife with a mysterious sort of English accent. She is a Sultana, and despite her divorce from the Sultan, she still uses the title, which she uses to hide a dire secret from the rest of the wives. Always first to recommend a pharmaceutical pick-me-up, Lulu helps steer Joanne through her early rocky period with the other wives.
Penny Quinoa St. Simone: Female, 30, cute and spirited, this wife is a follower, married to Theodore St. Simone (of questionable sexuality). Penny is both quick-and-dim-witted, a pleaser, and sells a 10-day cleanse called "Babylicious."
Man: Male, 30s-early 40s, plays all the men in the show: Anderson Johnson, Royce Bellini, Theo St. Simone, a swishy hairdresser, a bedazzling TV host, a snooty shoe salesman, a mysterious gypsy, and so much more. Must be very adept at multiple characters and quick changes.
Setting: Multiple locales in the present