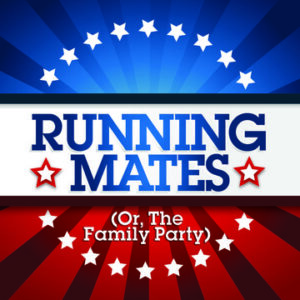 RUNNING MATES: OR THE FAMILY PARTY

By Beth Kander
Cast: 3F, 3M
Run Time: 90 min
Set Requirements: Unit Set
---
Sam Storm has been the beloved mayor of Anderson, Georgia for the past twenty years. Loved by the community and his doting wife, Sam's name is usually the only one on the ballot come election time, but when an embarrassing video of him is leaked, his seat in office is threatened. Sam has some real competition when the last person he ever expected to run against him puts her name on the ballot, his wife Sophia. Now it's down and dirty as husband and wife duke it out. Can their marriage withstand the political fisticuffs? And what happens when an unexpected third candidate enters the race? This fast-paced political comedy brings new meaning to the phrase "family politics."
---
Materials: your materials will be sent to you two months prior to your opening date and will include everything necessary for your production and can be ordered in Printed or Digital format. Printed Materials are provided on unbound three-hole punched loose-leaf paper while Digital Materials are provided via email as downloadable PDF files for you to print in-house. All materials are yours to keep! No deposits, no returns.
The required materials for RUNNING MATES include:
Production Scripts
Available Products:
Acting Edition – Beautifully bound scripts available at wholesale costs to sell in your lobby!
Director's Script – Single-sided script with space for director's notes.
Logo/PR Pack – Includes high-resolution artwork, ready-designed posters, and reference photos.

---
Hilarity runs in the family – especially in the smart, witty, political family in Beth Kander's clever new comedy RUNNING MATES.

– Francine Thomas Reynolds
Artistic Director
New Stage Theatre
---
Characters
Sofia Storm – F, 52. Longtime first lady of Anderson. Educated, articulate, left-leaning; polished, graceful, and tired of being underestimated.
Liddie Valentine – F, mid-30s. Sofia's younger best friend and default manager. Take-no-prisoners, witty, far more leftist and far less graceful than Sofia.
Ted Wink – M, 20s. Sofia and Liddie's yoga instructor. Peacenik and zen-lover.
Sam Storm – M, 50s. Mayor of Anderson, incumbent mayoral candidate. Good old Southern boy; smart, protective, often clueless about how to interact with the strong women in his life.
Jimmy Benjamin "J.B." Jackson – M, 20s/30s. Henry's campaign manager and lapdog. Nervous, neo-Conservative, jumps at loud noises.
Savannah Storm – F, 22. Sam and Sofia's rebellious daughter. Bright, active, college senior; does not take kindly to the idea about being used for the political gain of either of her parents.
Setting: Small town Anderson, Georgia, in the year 2010