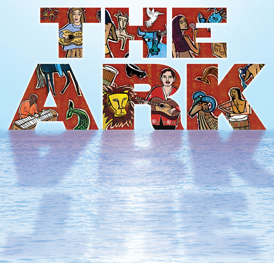 THE ARK

Book and Lyrics by Michael McLean and Kevin Kelly
Music by Michael McLean
Run Time: 2 hr, 30 min
Cast: 4F, 4M
Orchestration: Keyboard, Bass, Drums, Guitar, Synthesizer
Set Requirements: Unit Set
---
This exciting new musical is sure to delight and inspire audiences of all ages as they enter your theatre transformed into an ark only to discover they are the animals and this is not only Noah's adventure, it's theirs.
---
---
Productions
Past Productions
37 Arts
Off-Broadway, New York
Draper Historic Theatre
Draper, Utah
Hatton Community Theatre
Hatton, North Dakota
James Street Players
Babylon, New York
Carriage House Theatre
Cardston, Alberta, Canada
Thunder Bay Theatre
Alpena, Michigan
Artisan Center Theater
Hurst, Texas
Extended run, & brought back a 3rd time!
Dakota Prairie Regional Center for the Arts
New Rockford, North Dakota
Extended run!
Village Theatre
Issaquah, Washington
Maeser Preparatory School
Lindon, Utah
Boise LDS Institute of Religion
Boise, Idaho
Prosperity Learning Academy
Midvale, UT
Eastern Arizona College
October 2012
Northern Star Theater
Rice Lake, Wisconsin
Grand Theatre
Salt Lake City, Utah
Sandstone Stake LDS Church
Las Vegas, Nevada
Burleson Community Theater
Burleson, Texas
Our Lady of Lourdes
Milwaukee, Wisconsin

---
…the show is selling out nearly every night. We constantly receive comments about the fantastic music, the entertaining dialog, and most of all, the uplifting message of hope that every patron carries away after the show. …people of all ages and all walks of life are moved and touched by this heartwarming story.

– Dakota Prairie Regional
Center for the Arts

A Refreshing New Musical!… When the eight players (Noah, his wife, three sons, and their three wives) arriving singing a welcome to the animals (the audience), a very human family story unfolds. Rigid fathers, self-absorbed husbands, neglected wives, rebellious sons are all on hand. It works, because a gifted team has created a tightly-knit book, haunting lyrics, and diverting music inspired by such genres as rock, blues, honky-tonk, gospel. There are hilarious, as well as poignant, moments.

– Jewish-Theatre.com
---