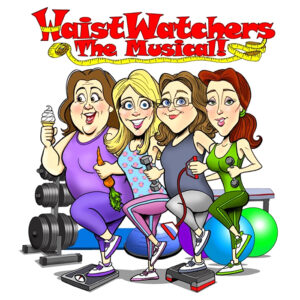 _
WAISTWATCHERS THE MUSICAL!

Written by Alan Jacobson
Cast: 4 Women
Orchestration: Piano, Bass, Percussion
Tracks Available
Set Requirements: Unit Set

---
Synopsis
WaistWatchers The Musical! is the tale of four women sharing stories about their battles with aging, weight, dieting, exercise, and their significant others. Set in a women's gym, the show follows the women as they go through the ups and downs of survival in a weight- and beauty-obsessed world. Led by an energetic personal trainer, three image-challenged women try to get in shape as all four of their stories and personal struggles with food are played out through humor and infectious parodies of well-known songs.
formerly FOOD FIGHT: A Musical Comedy for Waist Watchers
---
---
Productions
Current/Upcoming Productions
Herberger Theater Center
Phoenix, Arizona
Dec 23, 2015 – Jan 24, 2016
extended to Feb 7, 2016
San Diego Rep – Lyceum Space
San Diego, California
Feb 24 – March 27, 2016
Penns Landing Playhouse
Philadelphia, Pennsylvania
April 6 – May 29, 2016
The 24th St Theatre
Sacramento, California
July 6 – 24, 2016
Del Valle Theater
Walnut Creek, California
Aug 3 – Sept 4, 2016
Montgomery Theater
San Jose, California
Sept 7 – 25, 2016
Past Productions
Broward Stage Door Theater
Coral Springs, Florida
Chequamegon Theatre Association
Ashland, Wisconsin
National Tour
2010
Plaza Theatre
Manalapan, Florida
Studio Theatre
Lindenhurst, New York
Bell Tower Theater
Dubuque, Iowa
Westport Playhouse
St. Louis, Missouri
Broward Center
Fort Lauderdale, Florida
Wilson Center for the Arts
Jacksonville, Florida
Maltz Jupiter Theatre
Jupiter, Florida
14th Street Playhouse
Atlanta, Georgia

---
The audience eats the show up… box office gold!

 – The Sun Sentinel

WAISTWATCHERS THE MUSICAL! was the longest-running show in Palm Beach County since 2002. It ran 6 months and easily could have run a year or more if we didn't have a subscription season to make way for.

– The Plaza Theatre
Manalpan, FL