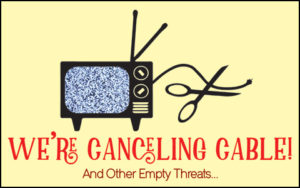 WE'RE CANCELING CABLE
(AND OTHER EMPTY THREATS)

Written by Michael Kaplan
Songs by Michael Kaplan and Mark Pietri


WE'RE CANCELING CABLE (AND OTHER EMPTY THREATS) is a collection of songs, sketches, and monologues that explore the hilarious, sometimes cringe-worthy moments that take place on the sidelines of soccer fields, behind the closed doors of parent-teacher conferences, and within our own living rooms. Not exactly appropriate for children. But why would you bring them? This is your time.
An uproarious, incisive show that absolutely tells the truth about parenting through music and comedy.
---
Past Productions
San Luis Obispo Little Theatre – January 2015 – World Premiere, directed by Jill Turnbow.
Nathan Emmons, Gregory Gorrindo, Katie Gucik and Alicia Klein
Photos by Jamie Foster Photography

---
A fun, entertaining, really funny show.

– The Tribune