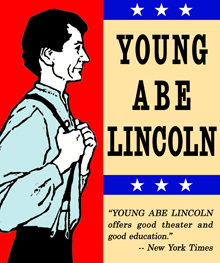 YOUNG ABE LINCOLN

Book and Lyrics by John Allen
Music by Jeffrey Lodin
Additional Lyrics by Mana Allen
Run Time:
Cast: 5 Principals, optional Ensemble
Orchestration: Piano
Set Requirements: Unit Set

---
Celebrating the Lincoln Bicentennial in 2009
YOUNG ABE LINCOLN is a delightful and informative musical set in 1830's America, featuring our 16th president during the awkward, gangly years of his youth. Abe's got some good ideas and a passion for fairness, but isn't quite sure what to do with himself. Find out what inspired Abe to take his talents all the way to Washington, D.C.!
"The substantive story is that of a young man impassioned by the tenets of the United States: exhilarated by the concepts of liberty and equality and exalted by the realization that such ideas, expressed in the Declaration of Independence and the Constitution and books of law, can be applied to ordinary people… With its sprightly music by Jeffrey Lodin, its fast moving book and purposeful lyrics by John Allen, YOUNG ABE LINCOLN sketches the early life of the future 16th president in the course of one entertaining hour. The show takes Lincoln from his days as an Indiana farm boy through his extended journey to Illinois and beyond, to the time when he worked for a grocer, lost his first campaign, studied law and won his first case… best of all, the musical, while effectively instructive, never condescends to its audience. YOUNG ABE LINCOLN offers good theater and good education."
– The New York Times
This musical was originally presented Off Broadway in 1992. It enjoyed great critical acclaim and has been presented by 5th grade elementary school students. It can be performed by 5 adults for young audiences, or by an unlimited number of young actors for a school presentation.

---