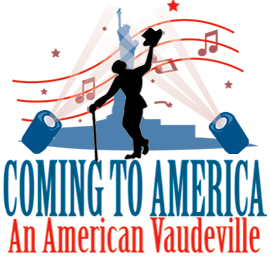 COMING TO AMERICA
An America Vaudeville

Written by James Hindman and Ray Roderick
Musical Arrangements by Phil Reno
Run Time: 2 hr, 10 min
Cast: 2F, 3M; (up to 25)
Orchestration: Onstage Piano
Set Requirements: Unit Set
---
COMING TO AMERICA celebrates the lives of immigrants who came through Ellis Island from 1893 through 1916 in search of the great American dream. This new musical presents a humorous picture of the melting pot that was the American experience at the turn of the century, through the eyes of everyday people who helped shape and change this country forever.
A talented cast of five singer/comedians create a new American vaudeville, transforming into literally dozens of characters. Irish, Jewish, Italian, Swedish, and Spanish immigrants – America changed them all. And they changed America in wonderful and unexpected ways. It's a wild spin in the melting pot as these funny-but-true Ellis Island stories build into one universal story of American dreams.
The score features landmark American songs by such legendary composers as Irving Berlin, George Gershwin, Cole Porter, Scott Joplin, Jerome Kern and George M. Cohan.
---
---
Past Productions
Kalliope Stage
Cleveland Heights, Ohio
Prairie Fire Theatre
Normal, Illinois
University High School
Normal, Illinois
Artios Academies of Gwinnett
Snellville, Georgia

---
COMING TO AMERICA is the perfect mix of Old Book Musical and Musical Review! It's steeped in history, but it's set up like a Saturday Night Live skit.

it's sentimental but very funny… with fresh and appropriate humorous touches. [It] certainly found an audience at the Kalliope as the response was very enthusiastic.

– Talkin' Broadway

---
click the logos below for more
Press & Reviews