Kalliope Stage, director ready for musical's world premiere

by Kerry Clawson

Like an expectant parent, Paul Gurgol has great aspirations for the world premiere of the musical Coming to America.
He has been fine-tuning his baby — giving it a little extra TLC here and a loving tweak there — nonstop since November as his five-member cast prepares to unveil the show Feb. 9 at Kalliope Stage in Cleveland Heights.
"I have labor pains right now — I'm pregnant with all this stuff," Gurgol said.
This passionate director works through total absorption: "When I'm working on a piece, everything in my life… has to be about that piece."
Gurgol formed a relationship with Coming to America's creator, James Hindman, after producing another of his shows, the Off-Broadway hit Pete 'N' Keely, in Kalliope's inaugural 2004 season. The critical response was so good for that show that Hindman brought it up when he ran into Gurgol in New York.
"These reviews are phenomenal, and I just want to thank you for doing such good work with my show," Hindman said.
Later, Hindman called Gurgol at Kalliope and said: "I really think you should look at some of my other work."
Hindman and his partner, Ray Roderick, run Miracle or 2 Productions, a New York production company dedicated to creating and developing new American musicals.
The fit was perfect, because an important part of Kalliope Stage's mission is to produce world premiere musicals. Coming to America is its first.
Melting-pot tale
The "poperetta" tells the true stories of five unknown immigrants at Ellis Island — American heroes who changed the face of this country. The musical features 61 songs by landmark composers from 1890 to 1927, including Irving Berlin, Jerome Kern, George M. Cohan, Victor Herbert and George Gershwin.
Gurgol was attracted not only to the music, but also to the humor and history in this melting-pot tale.
"By now, I know my audience somewhat," said the director, who's presenting his third Kalliope season. "I'm a huge, huge history buff about Ellis Island and the early 20th century."
The artistic director said the five-member cast and grand-piano accompaniment are also right up Kalliope's alley. The house has a postage stamp-sized stage and seats a maximum of 99, much like an Off-Broadway house.
"They (Hindman and Roderick) are trying desperately to write musicals for regional theaters like us so it doesn't take a full orchestra and 30 people" to cast the show, he said.
New vaudeville
Coming to America, which features a ragtime beat, is a cross between an old book musical and a musical revue. The show runs through March 12, with performances Wednesdays through Sundays. Call 216-321-0870 or see www.KalliopeStage.com for ticket information.
Through the development process, Gurgol found the thread that holds the immigrant characters together: "It's a new American vaudeville," he said. "It's got everything from vaudeville history."
The director decided to have his cast play vaudeville actors who assume the characters of each of the five immigrants, plus many secondary characters. The music links the individual stories, which are told as comedic sketches.
"It is steeped in a lot of history, but it's set up like a Saturday Night Live skit," Gurgol said.
Vaudeville was a symbol of cultural diversity, featuring a fusion of ethnic performers onstage as well as a middle-class, diverse audience.
For Coming to America, Broadway arranger Phil Reno has arranged standards such as Play a Simple Melody and Alexander's Ragtime Band with ragtime or jazz barbershop beats.
"For our audience, I'm hoping that the experience they have is like going to a vaudeville show 100 years ago," Gurgol said.
The ethnic groups represented are Irish, Jewish, Italian, Greek and Swedish. The story opens in what Gurgol calls a "sparkling moment," when the characters arrive by ship at Ellis Island and catch a first glimpse of the Statue of Liberty.
These five immigrants come to the United States clinging to the American dream, and end up exceeding their expectations. Success stories range from the tale of the first female business owner in New York to the fellow who discovered Chef Boyardee.
The cast features Kimberly Koljat of Northeast Ohio and New York actors Christopher Sena, Beth Kirkpatrick, Jaron Vesely and Jason Winfield. Gurgol described them all as triple threats who can "sing like birds" and are strong actors and comedians.
Onward, upward
When it comes to readying Coming to America for its stage debut, creator Hindman has put all the tweaking in Gurgol's hands. Daily changes include adding or cutting musical interludes, plus refining the script.
"Jim (Hindman) has given me carte blanche. This is the first time I'm really working on something with the writer," Gurgol said.
Kalliope's goal in presenting the world premiere has an even greater scope. "If we get to the point where it's a success here, there are other theaters (across the country) that are interested," said Gurgol, who could take his cast on the road.
Kalliope Stage, which has previously staged four Northeast Ohio premieres, is becoming known for presenting new musicals. Gurgol said he receives many new, unsolicited scripts in the mail.
"The way to make Kalliope a success is to constantly have things that are bigger than what we do just at Kalliope," he said.
"I don't want to be just a Cleveland theater. I want to be a major regional theater in this country."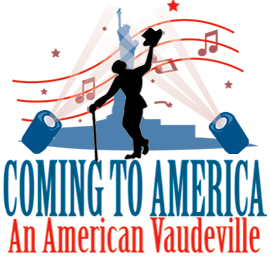 ---
COMING TO AMERICA is the perfect mix of Old Book Musical and Musical Review! It's steeped in history, but it's set up like a Saturday Night Live skit.

it's sentimental but very funny… with fresh and appropriate humorous touches. [It] certainly found an audience at the Kalliope as the response was very enthusiastic.

– Talkin' Broadway
---