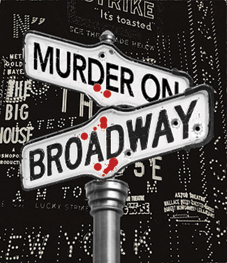 MURDER ON BROADWAY
A Romantic Murder Mystery

Music by James Campodonico
Book and Lyrics by Bryan D. Leys
Run Time: 90 min
Cast: 4F, 6M, optional ensemble
Orchestration: Keyboard
Set Requirements: Unit Set

---
Synopsis
The year is 1947.  It's opening night at the Broadacre Theatre for Princess of the Pyramids, an awful musical comedy extravaganza starring the glamorous Delores Delmar.  Murder stalks the stage during the opening number as an actor stops the show by falling out of an ancient sarcophagus stone cold dead.
Dick Denning, a down on his heels private detective, reads about the death in the paper and seizes on the case as a way to renew his reputation as a sleuth.  He needs to prove that he can solve cases without the help of Norma West, his ex-wife and ex-partner.  Soon, Denning's supposed client also winds up dead.  Accompanied by his trusty secretary, Hotcakes, and his able assistant, Peanuts, the ensuing mystery takes him uptown and downtown, from posh nightclubs to the base of the Brooklyn Bridge and from high society to the lowest of dives.   The chase involves, romance, adventure, comedy and song.
MURDER ON BROADWAY combines the "hard-boiled" elements of classic detective fiction with the lighter, breezy style of GUYS AND DOLLS and PAL JOEY. MURDER ON BROADWAY can be done with as few as ten actors or can be expanded to include a chorus.