_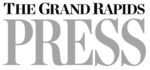 'Scenery' a witty race through theater couple's life
BY SUE MERRELL
Tuesday, August 29, 2006
If "Scenery" is a term for "making a scene," Ed Dixon's new comedy is aptly named, and he and co-star Lynne Wintersteller are experts at the craft.
The show, which opened in Saugatuck's Mason Street Warehouse Friday night, is a nonstop barrage of one-liners and witty put-downs.
Dixon and Wintersteller portray Richard and Marion Crain, a Broadway acting couple with 20 years of practice at turning argument into art. In the dressing room of the Belasco Theatre, just before the opening of "The Anniversary Wake," they slice and dice each other, as well as producers, rude audiences and even Domino's Pizza.
Dixon, a longtime Broadway actor, playwright and composer, debuted a similar play a few years ago in Connecticut but said he considers this show the world premiere of a substantially rewritten script.
The result kept the audience laughing and in awe of the actors' flawless timing. Some of the funniest bits relied on the actors' ability to interrupt whatever they were saying to respond in unison to calls from an offstage voice. Adding to the fun was an offstage toilet that caused the lights to flash every time it was flushed.
Some of the humor is theater-based, such as a running bit about the superstition that it's bad luck to say "Macbeth" in a theater, requiring the offender to follow an elaborate ritual to counter the curse.
People may be confused when the Crains refer to "last night's audience," because in Michigan, an opening usually is the first performance. But in New York, an opening follows two or three weeks of preview performances.
Many quips are the kind of lines you'd like to use in your next argument. For instance, when Marion is trying to calm herself, she recites the mantra: "Get my breath, get my center, get my gun."
Wintersteller is a fountain of energy, speaking very fast but always clearly, as she flits from topic to topic. Dixon's Richard is more introspective, with the slower, wry retort.
Director David Glenn Armstrong has set a fast pace, which adds to the humor and keeps the audience from missing the lack of transition between the loosely related subjects addressed. This also keeps the audience from thinking too much about whether these people are real or stereotypes. They strip down to their undies, lace up a corset and change wigs, yet it may be difficult to understand what keeps the pair together.
Early on, we discover the marriage is far from ideal, because Marion complains they haven't had sex in eight years. On their honeymoon, each had a tryst with the same male gardener. Now it's 20 years later and Marion is still sobbing because her husband isn't attracted to her gender.
There are poignant moments, such as when Richard says he wishes he were perfect so he wouldn't have to try so hard all the time, and when each expresses concerns about having a sagging, aging body.
But it's a little frightening when the two seem most in sync — like high school girls giggling at a slumber party — as Marion gives Richard details of the new man in her life.
It's clear they both love theater, but is that enough?
Well, if you believe in the "Macbeth" curse, you just might buy Dixon's over-the-top plot twists at the end. If not, at least you'll be laughing while you're shaking your head.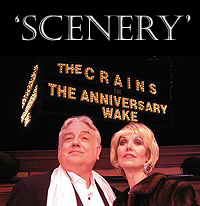 SCENERY
Written by Ed Dixon
---
a broadsided salute to the triumphs and heartbreaks of working in the theater…

a deliciously caustic new two-character comedy…