_

'Scenery' chews on life in the theater
BY CHRIS JONES
SEPTEMBER 1, 2006
SAUGATUCK, Mich.— Among his fine roster of Broadway engagements, character actor Ed Dixon's resume includes the National Tour From Hell — otherwise known as "The Best Little Whorehouse in Texas" starring Ann-Margret. That must have given Dixon some stories. So must his years of playing Thenardier in "Les Miz," bowing to the backs of people heading for their cars and warbling o'er collective coughers doing their best impression of hungry prairie dogs.
Presumably to find a little catharsis, Dixon has penned "Scenery," a deliciously caustic new two-character comedy that's first peeking out of its embittered shell way, way off-Broadway. This lovable summer puppy — which can't quite decide whether to be a sharp verbal satire or a silly, old-fashioned showbiz farce — this show's attacks on New York theater culture and its shrewd dissection of the dysfunction that drives actors out of their minds positively vibrates with veracity.
The premise here is that the married Richard and Marion Crain (Lynne Wintersteller is Dixon's droll and fearless co-star) are doing some lousy fin-de-career vehicle in a crappy Shubert house, where the garbage Dumpster is but a waft of fetid air away from a dressing room painted the color of lox. They kvetch about producers, critics and "slaving in the art mines" and whether or not a fat liberal can, in good conscience, order a dressing-room pizza from Domino's.
Much of this could have been culled from material that Mel Brooks or Eric Idle (or Martin Short) threw away. But there are some sparks of real comedic originality. This is comedy born in pain, which is the best kind. This, for sure, is the work of a man who knows all about the barbarism of a life in the American theater. A lot of people in Chicago would understand.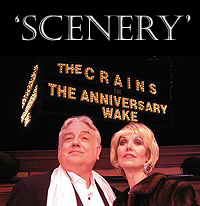 SCENERY
Written by Ed Dixon
---
a broadsided salute to the triumphs and heartbreaks of working in the theater…

a deliciously caustic new two-character comedy…