I Love A Piano
Review: West Coast premiere of the revue is a fitting tribute to the great composer's longevity.

by Eric Marchese
Where to start when formulating a revue of the music of Irving Berlin? The guy wrote nearly 1,000 songs in addition to the scores of 21 Broadway shows and 17 movie musicals – not just good but, more often than not, great material. His catalog contains enough for multiple anthologies.
In creating their 1992 show "I Love a Piano," Ray Roderick and Michael Berkeley took a fairly reliable approach, appending a rather overworked – yet somehow within this context endearing – gimmick. The schema is a survey of Berlin's music from the early 1910s, when he had already emerged as a master Tin Pan Alley songwriter, to the late 1950s, by which time he was a living legend. The gimmick is the "life" of a piano with a defect – an apparently unfixable sour note – that keeps changing hands through the decades.
The device of tracing the fate of that little piano keeps things moving in Roderick's Musical Theatre West staging, the show's West Coast premiere, which fits some 64 Berlin songs into a briskly paced, generally tight show.
Berlin mastered numerous, time-honored genres of American popular song – a fact Roderick and Berkeley were careful to showcase when drawing from his catalog. "Piano" has snappy dance tunes, romantic ballads, ragtime songs, Tin Pan Alley tunes, Jazz Age ditties, heartfelt torch songs, patriotic anthems, holiday songs that long ago became standards, and Broadway-style numbers. Roderick's staging and choreography, John Glaudini's musical direction and the work of the cast is so self-assured that if you weren't a fan of Berlin's music before, you will be after seeing this show.
Too numerous to catalog, the highlights include the flapper-era feel of "Everybody Step" and "They Call It Dancing," the plaintive melancholy of "Russian Lullaby," an elaborate medley of "I'm Steppin' Out With My Baby" and "Puttin' on the Ritz," a re-creation of Judy Garland and Fred Astaire as hobos singing "We're a Couple of Swells" (from "Easter Parade") and an all-stops-out rendition of Berlin's paean to his industry, "There's No Business Like Show Business."
Paired off into couples, Roderick's sextet of performers are ingratiating musical-theater personalities with solid vocal, dance and comedic skills. Stephen Breithaupt and Julie Dixon Jackson portray seasoned pros Alex and Sadie; Kevin Earley and Kathi Gillmore are leading man George and leading lady Ginger; Dan Pacheco and Jill Townsend are juvenile Jim and ingenue Eileen. Considering these "characters" transcend the multiple decades they're depicted in, this conceit is a bit of a stretch. That it works is a tribute to the show's overarching layout and to the flexibility of the larger genre of musical theater.
Jackson has a substantial presence and voice, so it's no surprise she's called upon to deliver a Kate Smith-style rendition of "God Bless America." Breithaupt has a pleasingly broad tenor and an equally elastic stage persona. Earley is called upon time and again for his expressive lead tenor vocals, repeatedly answering the call. Gillmore's persona is generally pert and saucy, and though Pacheco and Townsend provide youthful energy, they never fail to come off as anything but thoroughly professional. Roderick's expansive choreography, meanwhile, uses the entire Carpenter Center stage and its considerable breadth.
If there's one criticism that can be leveled at "I Love a Piano," it's that its first act is top-heavy, with more than two-thirds of the show's musical numbers shoehorned into its seven scenes. Once the World War II, postwar years, early '50s and summer-stock sequences arrive, though, the show hits an unstoppable stride, bolstering it as a tribute to Berlin's musical ingenuity.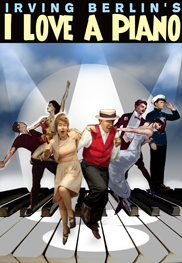 ---
When asked where Irving Berlin ranked in American music, fellow giant Jerome Kern famously said, 'Irving Berlin has no place in American music. He is American music.' The enduring truth of Kern's assessment underpins the showbiz panache of 'I Love a Piano,' …as invigorating a song-catalog revue as any since AIN'T MISBEHAVIN.

– Los Angeles Times
---