Review: I Love A Piano

by Les Spindle
Last summer, producer-creator Tripp Hornick presented the West Coast premiere of The Melody Lingers On: The Songs of Irving Berlin at North Hollywood's El Portal Theatre. The far superior I Love a Piano, by Ray Roderick and Michael Berkeley, now in its West Coast premiere, is another Berlin greatest-hits cavalcade. Less pretentious than the semibiographical Melody, Piano gets right down to business, offering 60-plus immortal Berlin tunes. Director-choreographer Roderick, music director John Glaudini, and a dream cast of triple-threat performers parlay the glorious Berlin canon into a tuneful and exhilarating show.
The writers devised an effective linking device: The famous Berlin ditty of the title is the springboard for a thin narrative about a piano that passes through several owners, beginning in the Tin Pan Alley era, circa 1911, when Berlin launched his career, and ending during a late-1950s summer-stock casting session for Berlin's 1946 musical, Annie Get Your Gun. This framing device allows for logical groupings of songs, such as the World War II segment spotlighting Berlin's patriotic "God Bless America" and his rousing military songs.
The ensemble is so evenly matched it's impossible to pick favorites. It's immensely satisfying to see Kevin Earley spread his comedic wings. He lets his hair down to delightful effect here, making the most of Roderick's lighthearted concepts. And that magnificent baritone voice sounds resplendent when he lets loose on "How Deep Is the Ocean?" and other soaring Berlin ballads. Julie Dixon Jackson is also in stellar form. She croons the heart-wrenching "Suppertime" with unbridled panache and shares a dazzling "You're Just in Love" with the versatile and dynamic Stephen Breithaupt. Dan Pacheco exudes charm and pizzazz, as in the snappy dance number "Puttin' On the Ritz" and the delicious hobo routine "We're a Couple of Swells," sharing it with effervescent pixie Jill Townsend. The captivating Kathi Gillmore is equally adept at belting out classic tunes and nailing choice comic bits. Design credits are likewise classy-the icing on the cake for this triumphant showcase-offering top-notch performers relishing some of the finest show music of all time.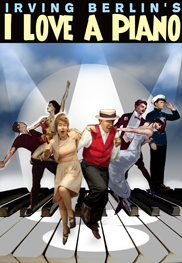 ---
When asked where Irving Berlin ranked in American music, fellow giant Jerome Kern famously said, 'Irving Berlin has no place in American music. He is American music.' The enduring truth of Kern's assessment underpins the showbiz panache of 'I Love a Piano,' …as invigorating a song-catalog revue as any since AIN'T MISBEHAVIN.

– Los Angeles Times
---