Rousing, toe-tapping `Piano' celebrates music of Irving Berlin

by Shirle Gottlieb
Just mention the name "Irving Berlin" and everyone immediately thinks of "God Bless America," "White Christmas" or "There's No Business Like Show Business." But that's only a drop in the bucket of what this musical genius achieved during his long, prolific lifetime.
Berlin was a Russian immigrant who wrote the lyrics and music for more than 3,000 songs, 17 film scores and 21 Broadway musicals. Even more surprising for someone with so much innate talent is the fact that he never learned to play the piano.
Several years ago, Ray Roderick (another musical wunderkind) decided it was past time for a musical revue that spotlighted Berlin's staggering accomplishments. With co-author Michael Berkeley, he wrote "I Love a Piano," which he also directed and choreographed.
Last weekend, Musical Theatre West opened a rousing, toe-tapping production of Roderick's tribute to Irving Berlin at the Carpenter Performing Arts Center.
" I Love a Piano" is a nostalgic musical journey through seven decades of American history as seen through the eyes and felt by the heart and soul of Berlin. With a fabulous seven-piece band on stage directed by John Glaudini, it follows the adventures of an old, upright piano as it travels through the lives of different people at various periods of time from the early 1920s through the late 1950s.
During the course of two hours, six highly trained actors present 64 of Berlin's delightful songs, augmented by Roderick's charming but demanding dance routines, which wowed everyone in the audience. The three guys (Stephen Breithaupt, Kevin Earley and Dan Pacheco) and three gals (Julie Dixon Jackson, Kathi Gillmore and Jill Townsend) demonstrate astonishing performance skills, both physically and vocally.
Not only do each of them sing up a storm and dance with ease in solo numbers, their combined ensemble routines are seamless, natural and timed to perfection, all the while in perfect step with the beat of Glaudini's baton, regardless of change in tempo. With distinct personalities and voices that complement each other, the six-member cast becomes more than the sum of its parts.
Beginning with the "I Love a Piano" overture, you are next treated to "A Pretty Girl Is Like a Melody." In fact, you'll hear so many familiar melodies during the show, you'll be instantly transported back to wherever you were the last time you heard them.
Songs you didn't even know you remembered are burnished in your brain. Even if you weren't born yet, lyrics from "Alexander's Ragtime Band," "Everybody's Doin' It," "Blue Skies Smilin' at Me" and "I've Got My Love to Keep Me Warm" are part of our country's collective memory of the 1920s — with allusions to the Depression and Prohibition.
Then come songs made famous in the movies by Fred Astaire and Ginger Rogers: "Steppin' Out With My Baby," "Top Hat," "White Tie and Tails," "Puttin' on the Ritz" and "Let's Face the Music and Dance" — all presented in a glamourous style with high energy by all sixperformers. These are followed by "Let Yourself Go," "Say It Isn't So" and "Change Partners."
During World War II, Berlin composed upbeat songs to combat the fear and loneliness of Americans both on the home front and in battle — comical ditties such as "Oh, How I Hate to Get Up in the Morning" and nostalgic tunes such as "Count Your Blessings Instead of Sheep," "I'll Be Loving You, Always" and "What'll I Do?"
Anyone remember the Andrew Sisters? ("I Left My Heart at the Stage Door Canteen," "Any Bonds Today," "How Deep Is the Ocean") or Kate Smith singing "God Bless America"? Musical Theatre West's superb ensemble sings them all with panache, style and verve.
Of course there has to be a sampling of Berlin's world famous show tunes such as "Easter Parade" (a real crowd-pleaser), plus songs from "Annie Get Your Gun" ("Anything You Can Do, I Can Do Better" and "Old Fashioned Wedding"). For the grand finale, the cast delivers a show-stopping treatment of "There's No Business Like Show Business" dressed in black formal attire.
Enhancing the excitement of this Musical Theatre West production are Todd K. Proto's period costumes, Debra Garcia Lockwood's show biz light design, Julie Ferrin's crisp sound and Kevin Clowes' skill at coordinating the fast-moving scenic elements.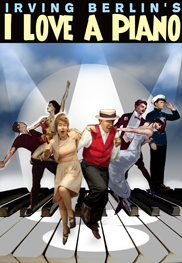 ---
When asked where Irving Berlin ranked in American music, fellow giant Jerome Kern famously said, 'Irving Berlin has no place in American music. He is American music.' The enduring truth of Kern's assessment underpins the showbiz panache of 'I Love a Piano,' …as invigorating a song-catalog revue as any since AIN'T MISBEHAVIN.

– Los Angeles Times
---